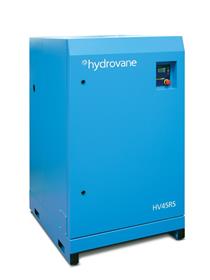 Specifikacija:
• 7 and 10 bar - 4 to 7 kW
• 8 and 10 bar - 11 to 45 kW
• 0.66 to 7.33 m³/min
• 24 to 259 cfm
• Low noise levels - 66 to 73 dB(A)
• Full Air Intake Modulation
• Automatic Start/Stop
• Fully Enclosed
• IP55 Electric Motor
• Slow Speed: 1450 RPM
• Lower Off Load Power (REVS)
• Electronic Controller
• Over-temperature protection
• Direct Drive
• Smallest footprint in its class
The Hydrovane HV (ACE) series of vertical enclosed fixed speed rotary vane compressors offer world class flexibility and reliability, and the smallest footprint of any rotary compressor in the industry. Slow speed direct drive operation coupled with few moving parts means less components to fail and no power loss through belts or gears. Maintenance costs are reduced by the simple construction and grouped service components; spin-off / spin-on separator and filter elements further simplify maintenance and decrease the time required for routine service. Hydrovane HV (ACE) series is enclosed for quiet operation, and with a small footprint and low noise levels these compressors can be conveniently located at the point of use. With Hydrovane, installation is hassle-free. All vertical enclosed units fit through a standard 36" (914mm) door providing the most versatile compressor range in the market. The Reduced Energy Venting System (REVS) provides energy savings. This system supplies a low starting current and reduced off load power to 25% by rapidly venting internal pressure. Additionally, receiver and refrigerant dryer options are available on the HV 4 to 22 kW (5.5 to 30 hp) models, for a complete plug and play Hypac. Energy saving Regulated Speed (RS) models are available from 7 to 45 kW (10 to 60 hp). An industry leading Advance 10 year extended warranty is available on all Hydrovane standard products (Unless specified).